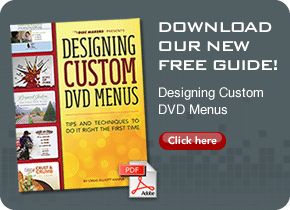 What is Authoring?
Authoring is the process of combining materials such as video, graphics, sound, animation, documents, and files into a format suitable for viewing on the appropriate device. Other devices include but are not limited to DVD players, Blu-ray players, computers, digital audio/video players such as an iPod or iPhone, and Internet browsers. Often times this requires the creation of an interface, allowing the user to navigate and access the different assets or files easily and conveniently. In the case of DVD authoring, this interface consists of a DVD menu or menus with play and chapter (scene) buttons. For CD-ROMs and enhanced CDs (ECDs), this interface is called a
splash page
. For more information about pricing and authoring services available at the
Authoring House at Disc Makers, see
DVD authoring
,
custom DVD menu design
,
Blu-ray authoring
,
CD-ROM authoring
, or
Enhanced CD (ECD) authoring
.