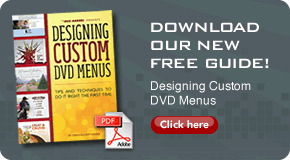 Do I need Authoring?
You have a finished video, film, or CD and you're ready to send it in for replication. So you may ask "My project is finished so why would I need authoring?" Even though your video, film and computer files may be finished, these materials still may need to be formatted and mastered correctly to disc to be ready for replication. So what does "ready for replication" mean? There are specific standards set for DVDs, Audio CDs, ECDs, and CD-ROMs to ensure your discs will play as expected on the appropriate devices. For example, if you send us a videotape for DVD replication, we cannot make DVDs directly from that tape. A videotape is not in the correct format to create DVDs. Even though both a videotape and a DVD contain and play video, they are two completely different formats. There are steps called authoring required to convert that tape into a format that meets the DVD specification. Likewise, just placing some audio or files on a disc does not mean it's ready for replication. The mastering of those files to disc must meet the specification for it's appropriate format. If not mastered and authored correctly, you run the risk of paying for discs that don't perform they way you expected.
So how do you know if your master is ready for replication?
A good rule of thumb is, if it plays and performs the way you want it to on the devices you want it to, then most likely it's ready for replication. This isn't 100% fool proof, but it's a good place to start. So if you put your master into a DVD player, does it work? Does your audio CD play in your CD player? Does your ROM disc play on both Macintosh and Windows computers? If they do, most likely you have a master that's ready for replication. It's very important to test your master on the devices you want your replicated discs to play on. Putting a QuickTime file on a DVD creates a disc that can be replicated, but the act of putting a file on a DVD does not make it a DVD Video. This disc can be replicated but as a DVD-ROM not DVD-Video. Your discs will only play on computers with QuickTime installed, they won't play in DVD players. This QuickTime file needs to be converted or authored (requiring additional charges) to meet the DVD specifications. After thorough testing, if your master doesn't work the way you intended then you need authoring.
If your disc is not performing they way you intended or you cannot author your project to meet the standards required, contact one of our Product Specialists at 1-800-468-9353 to discuss what the Authoring House @ Disc Makers to do for you. Or please see the services section of the Authoring House website for more detail.