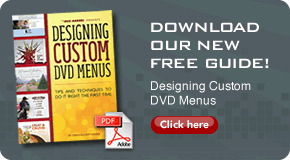 Why Do I need the Authoring House
at Disc Makers to Author my project?
One question we often get is: "With all the software programs available today, why should I hire you to do my authoring?" The answer is simple: A software program can't ensure your project will work as expected or at all.
Ask yourself these questions:
• Can the software ensure your DVD will play on a majority of DVD players, or will play in Europe or Mexico?
• Can it create the type of professional design that comes from a mixture of raw talent and years of design
training?
• Can it tell you what computer systems your multimedia CD or ECD will work on and which ones it won't?
Very simply, even the best software programs can't provide the type of expertise that comes from talent, training, and years of experience creating DVD/multimedia projects year in and year out.
For DVDs and CD-ROMs to play in appropriate devices and to ensure maximum compatibility, they must conform to certain standards. For DVD the standard is the DVD specification. For CD the standards are Red Book (audio CDs), Blue Book (ECDs), and Yellow Book (CD-ROMs). These standards were created to help provide consistency and compatibility across multiple devices. But even with these standards no DVD or CD is 100% compatible. There are numerous manufacturers, devices, and software programs designed to play and author CDs and DVDs, and there's no guarantee they will conform to the DVD/CD specifications.
In addition, how you author your CD or DVD can also have an effect on its compatibility. Unless you have the proper tools and experience, it will be difficult to avoid the pitfalls that can affect the playability of your final disc. So knowing what can cause a disc to fail or to produce unfavorable results is key to producing a successful product that will be as close to 100% compatible as possible. Staying up to date on the latest technology and techniques is one way to ensure a quality product but this can be difficult and time consuming at best.
The Authoring House @ Disc Makers takes great care to ensure your discs will play on a wide variety of players and computers. We stay up to date on the technology to ensure your product will be a success. And because we have been manufacturing optical discs for over 20 years, we understand not only the content but the science behind how a disc is actually made. We put this experience from years of authoring and manufacturing CDs and DVDs to work in every project we do. So let the Authoring House @ Disc Makers handle your project from start to finish and help ensure it is a success.
Feel free to browse our services section to see the wide variety of services and packages that we provide, such as; DVD Menu Design, Multimedia Development, Enhanced CDs, DVD Authoring, Closed Captioning, Motion Menus, and DVD Encoding. And let us at the Authoring House be the first to welcome your project home.