Disc Makers and Reggae Icon Burning Spear Release the First-Ever Indie DualDisc Project
September 20, 2005, (Pennsauken, NJ) — Disc Makers, the nation's leading independent media manufacturer, and Grammy-award winning reggae artist Burning Spear have announced the release of Spear's new studio album, Our Music, the first-ever independent release on DualDisc. This release marks the first project by a non-major label artist to incorporate the revolutionary new technology that combines CD and DVD content onto one double-sided disc. The album will contain new tracks from the reggae legend along with exclusive behind the scenes interviews and live footage from the recording sessions for Our Music.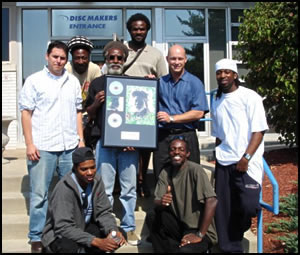 Since the introduction of DualDisc in early 2004, only the major labels have had the budget to utilize DualDisc technology for their artists' new releases. Disc Makers, a long-time champion for independent artists, recently began offering DualDisc to customers at an affordable price, giving them access to this cutting-edge technology for the first time.
"The DualDisc option continues Disc Makers' tradition of helping independent artists level the playing field with major label artists," explains Tony van Veen, Executive Vice President of Sales and Marketing for Disc Makers. "Now independent artists can afford this cutting-edge, retail-savvy product that creates an exciting purchase for their fan base — an option that has been outside of their radar and budget since the technology was introduced last year. Disc Makers is proud to bring the latest album by a true reggae icon to market using this exciting new format."
"I'm very excited about the ability of the DualDisc to combine music and video on one disc, playable on either a CD player or a DVD player," added Winston Rodney, the artist known as Burning Spear. "For an independent artist like myself, my message and image are a total experience that extends beyond just the music. Disc Makers made it easy for my fans to experience the full Burning Spear effect on one DualDisc."
About Disc Makers
In business since 1946, Disc Makers is the nation's leading independent CD & DVD manufacturer, offering a wide variety of products and services, including state-of-the-art automated printers and duplication systems as well as complete CD & DVD duplication, CD & DVD replication, custom disc packaging, and vinyl record pressing for independent musicians, filmmakers, and businesses for the last 70 years. Disc Makers also offers a variety of additional services including download cards, posters, custom USB Flash drives, music distribution, in-house audio mastering and post production, DVD and CD-ROM multimedia authoring, award-winning graphic design, and their Blog, which offers free tools and professional advice from industry experts. Disc Makers' main office and plant is located near Philadelphia in Pennsauken, NJ, and the company has regional offices in Los Angeles, New York City, Chicago, Seattle, and Nashville.