• Retouching
• Silhouettes
• Logo Design

Did you accidentally drop your photo and then your dog stepped on it? We can fix minor blemishes such as pimples or small scratches in a photo for free. Simple fixes usually cost $50-$75. More elaborate fixes can cost anywhere from $50 to $300. We can provide you with an exact price on your photo retouching when we see the photo. Take a look at the examples on the right and see how retouching can improve your supplied images.

• We can fix blotchy skin, soften wrinkles, and make other cosmetic touch-ups, all while keeping you looking natural.

• We can also remove or soften wear-and-tear from old photos.

• We can add artistic flair to your black–and–white drawings or photos by painting color into your images.

Was your photo taken in the kitchen, but you want it to look like you're in a field of wildflowers? Did you fire the bass player (again) and want him out of the picture? These are situations that would require a silhouette. Silhouettes combine two photos to make one, or put someone or something on a different background. We offer two kinds of silhouettes.

Full Silhouette - $100
Choose a full silhouette if you would like a person or object precisely cut out from the existing background and put into a completely new background. Note: Price may vary depending on the complexity of the image.

Soft Silhouette - Free
If you do not need it to be so precise and are ok with a bit of the original background showing through or a fuzzy edge around the figure or object, we can do that for free for up to 5 photos.



Logos are much more than your name printed in a fancy font. A logo is a symbol that identifies your project and its overall attitude. The Nike swoosh. Target's you know, target. The Rolling Stones' mouth, or the simple typographic logo for AC/DC.

For just $299 we will create a logo that captures the essence of your music, company, or message. That's superb value for such an important part of your image! While you're thinking about it, download our Logo Information Guide to get some great tips and insight into how we'll deliver your memorable logo design.

See also:
More logo samples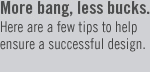 • Have your photos taken by a professional photographer. Photo retouching can cover up many flaws, but poor lighting, composition and image quality can be difficult obstacles to overcome.

• Avoid silhouette fees by taking your photos in the proper setting. If you want to be at the beach on your album cover, grab your camera and make a day of it. Your photos will look natural and your wallet will thank you.

• Folks often ask us to collage together several images to create elaborate photographic scenes. Using a blend of client images, stock photos and some custom Photoshop® trickery, we can achieve surprising results. Call us to find out if you'll need a custom quote.

• More questions? See our FAQ.