New! Video Brochures
Our DigiView packaging brings your vision to life. Call us at 1-800-468-9353 to get video brochure pricing.
What is a video brochure?
Video Brochures are highly targeted audio and visual communications, connecting with customers at the right time to deliver a strong video marketing message that's distinguishable from traditional content. Video brochures combine the effectiveness of traditional print brochures with the engagement of multimedia, bringing customers an interactive experience within a multi-sensory package.
All of our DigiView packages are customizable with a high-end design to showcase quality and professionalism and are great for:
Premium invitations for events and galas • Product education • Welcome kits & press kits • Presentation leave-behinds
Video Brochure specs
Screen size
2.4"
3"
4.3"
5"
7"
Aspect ratio
4:3
16:9
16:9
16:9
16:9
Screen resolution
320x240
400x272
480x272
480x272
800x480
Take a look at our selection below and choose the right style for your business: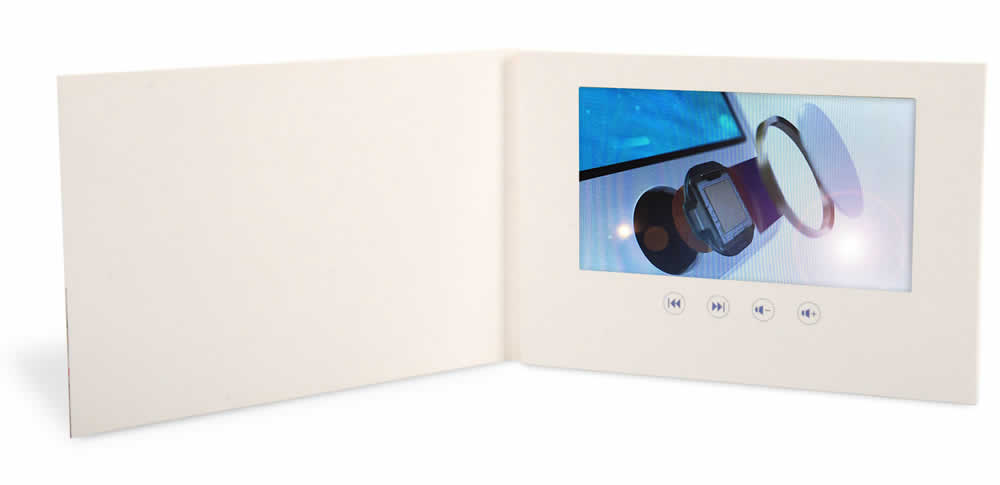 DigiView Brochure
An educational video marketing tool with a memorable experience
Package size: A5 (8-5/16" x 5-13/16")
Screen sizes: 2.4", 4.3", 5", 7", or 10"
Memory space: up to 2GB/110 minutes of nonstop runtime
Rechargeable Micro-USB connection
Call 1-800-468-9353 for a custom quote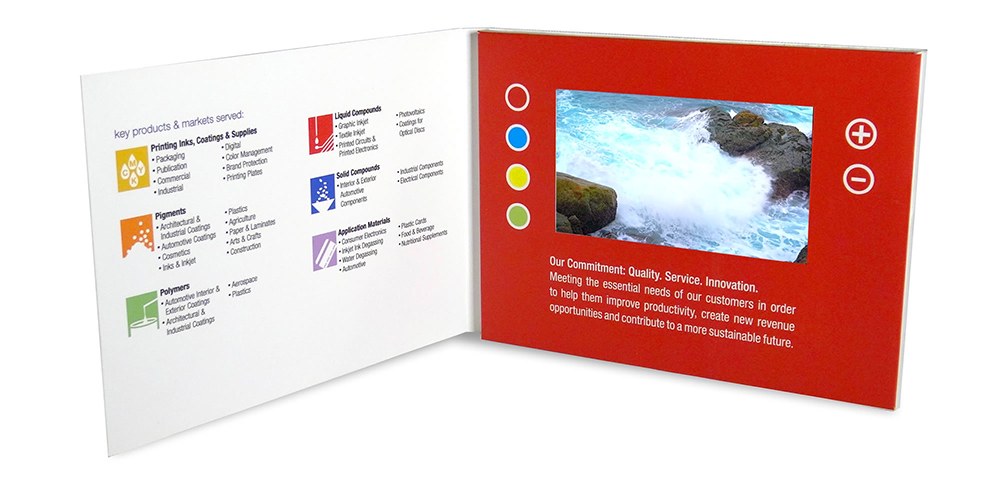 DigiView Booklet
The most powerful audio visual tool a sales rep could ask for
Package size: 6-3/8" x 4-3/4"
Screen sizes: 2.4" or 4.3"
Memory space: up to 2GB/110 minutes of nonstop runtime
Rechargeable Micro-USB connection
Call 1-800-468-9353 for a custom quote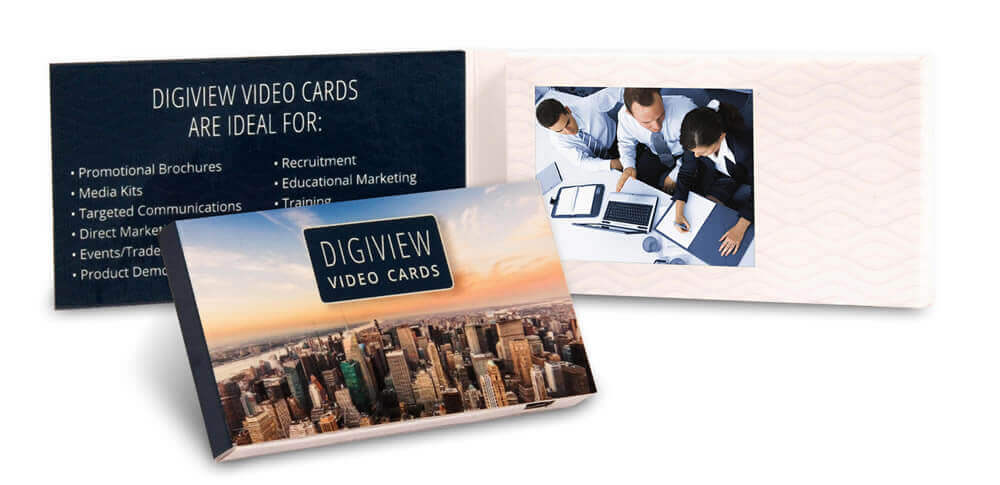 DigiView Card
Bring captivation to a cordial invitation
Package size: 3.5" x 2"
Screen size: 2.4"
Memory space: up to 256 MB/20 minutes of nonstop runtime
Rechargeable Micro-USB connection
Call 1-800-468-9353 for a custom quote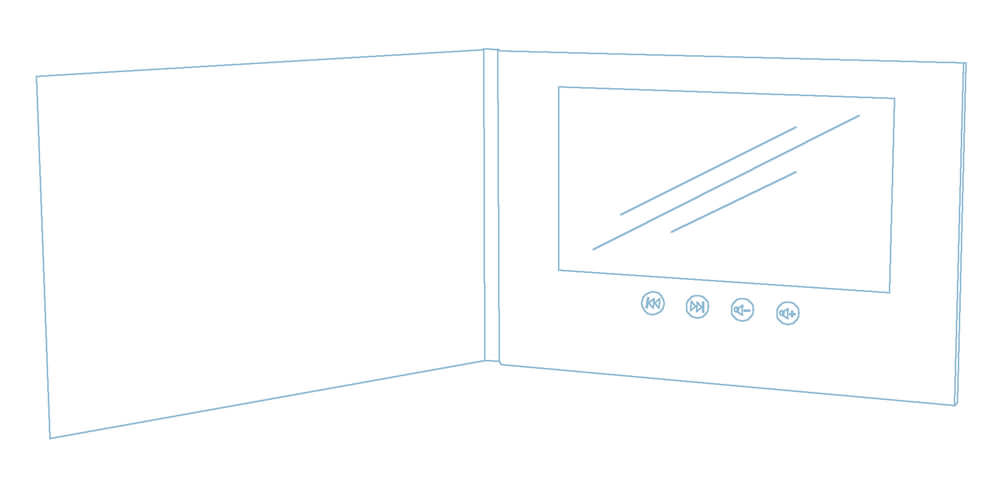 Customize your Video Brochure
Don't see a specific package that fits your needs? We offer lots of individual shipping cartons and custom packaging options. Call 1-800-468-9353 to speak with a Product Specialist today to learn more.
How to load new video files on a Video Brochure
The end user has the ability to change any content that they wish. The way this is accomplished is by following the steps below:
1. Insert the supplied USB cable into the USB port on your video brochure.
2. Insert the other end of the cable into a USB port on your computer containing the video file you wish to load.
3. In most computers, a window will pop up asking what you would like to do with the device. If prompted, select "Open folder to view files". If not prompted, navigate to My Computer (on PC) or the removable device icon that appears on your desktop (MAC).
4. Once you navigate to the root of the device, you will see a folder titled "Video"; open this folder.
5. The "Video" folder contains any videos currently on the device. Video files are named in the numerical order in which they will play on the device (eg., 00, 01, 02, etc.).
6. If you want to replace a video, select the video (or videos) you wish to remove, click the right mouse button and select "Delete" (if you wish to permanently remove the files) or "Cut" (if you wish to remove the files from the device but save them to the computer clipboard).
7. If you choose to save these video files to your clipboard you will want to paste them to a location on your computer. You can do this by navigating to the location you wish to save to, clicking the right mouse button and choosing "Paste".
8. Once you have removed the desired files, you can replace them with the new files. Locate the files on the computer that you wish to load, select them and then drag them into the "Video" folder. You will then need to make sure that you name each video file according to the number sequence in which you want them to play. For example, if you have 3 videos on the drive and are replacing the second one, you will want to make sure that the files on the device are labeled "00" & "02". The new file you are loading will need to be titled "01".
9. Once all video files are successfully loaded onto your video brochure, you can "Eject" the device. Do this by selecting it in "My Computer" (PC), right clicking the mouse and selecting "Eject". If you are on a MAC, you can simply drag the device as it appears on your desktop to the trash and it will safely un-mount the device.
Enhance the look and feel of your Video Brochure
Easily add any of these services to your order during checkout or learn more below.
Ready to get started?
Tell us what you need below or give us a call at 1-800-468-9353