What is a Digital Cover Design?
If you are planning to release a single, in advance of your album or as a digital download-only release, then Digital Cover Design is right for you. iTunes and other online stores require a digital cover with your download.

Digital covers need to grab your attention at a thumbnail size, therefore design details are kept to a minimum using 1 main image and easy to read text. This service includes 2 rounds of proofs.

Once you have approved your Digital Cover design, you will receive digital files suitable for use on the web.
Will the designer listen to my CD before he or she starts the design?
It may seem strange, but we don't listen to the music before we design. Music is subjective, and our goal is to design a package that conveys your message. If you still feel that hearing your music is important, you may send in a CD-R for the designer to listen to before he or she starts designing.
How to read your proofs
When looking at your proofs, take notice of the markings that we use in our templates. These show how the piece will be cut in the print shop.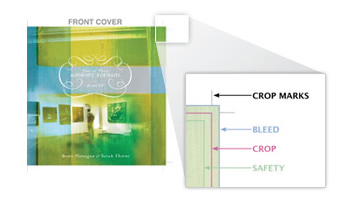 Bleed is extending any color, photo, or design elements past the cut line. Bleed gives the print shop a margin of error when trimming, so that if the cut is a little off, the white of the paper won't show along the edge.

Crop Marks show the print shop where to trim the pieces.

Safety Margins shows the outermost edge of where we can place important elements. If you put important information such as a song title or an important part of a photo right up against the crop line, some of it may get cut off. For that reason, we keep type and other important elements within the safety, 1/8" inside the crop marks.
Color Modes - CMYK vs RGB
The color mode used to create color on a computer monitor is completely different than the color mode used to print color on a press. Check out the samples and explanations below, and then trust that we've got your colors well under control!

RGB (Red, Green, Blue)
The RGB color mode, used by computer monitors, is made by combining three luminous, or glowing colors. The RGB color mode is capable of producing many more colors on screen than the Process (CMYK) color mode. This can pose a problem because many of the bright RGB images you may see on your computer simply can't be reproduced on a press. When we receive RGB images, we convert them to CMYK for our use. Please be aware that color shifts may occur.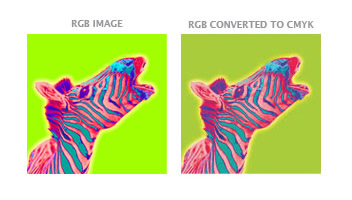 CMYK (Cyan, Magenta, Yellow, Black)
CMYK is the color mode that is used for all of our print graphics. When screens of the four CMYK "process" colors are combined in a dot pattern on paper, the human eye merges them into one color.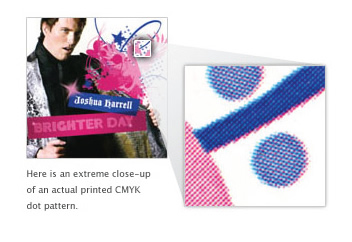 Image Resolution
High-quality design demands high-resolution images. It's as simple as that. Look at the examples below and check out our get started page for more information on supplying your images.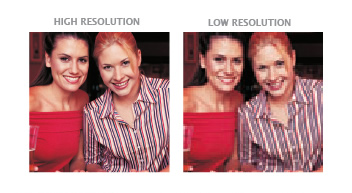 High-resolution images should be 300 ppi (pixels per inch) for greyscale and CMYK images, 1200 ppi for line art.

Low-resolution images include 72 ppi graphics captured from the internet, or images taken on cameras not set to highest quality or often images taken on cell phones. They will look fuzzy and pixelated. NOTE: Enlarging small images reduces overall print quality.
How long until I see my first design proof?
Design proofs generally take 3-4 business days to create once all job parts have been received. Larger booklets, complex or custom work may require 6 days or more.
What kind of proofs will I receive?
Proofs will be emailed to you with a link to view a high-resolution PDF file. You can also log in to your account online at any time to view and approve your proofs. While the final print may vary from what you see on your own monitor, rest assured that your completed package will meet our high standards for quality.
Are my proofs close to what the final print will look like?
The process used to print your packaging and the one used to create proofs are not identical, so some variation is to be expected. Computer monitors and home printers vary greatly, so emailed proofs cannot be used as a final color reference. We do not recommend evaluating proofs on your cell phone due to limitations of color accuracy and difficulty seeing details when proofing at a small size.
How do I supply my text?
To avoid delays or typesetting errors, we ask that you upload an MSWord (.doc or .docx) or Rich Text (.rtf) file that contains all the text you want included in your project. If you do not supply text in digital form there is an additional fee of $25 per panel for us to typeset your information for you.
What kind of stock photos do you have available?
We have thousands of images in our stock photo library. We have a wide variety of images: Mountains, clouds, sunsets, city skylines, flowers, crowds, instruments, children playing, beautiful women, computer circuitry, old maps and many, many more. Ask your Product Specialist to find out if we have a specific image that you have in mind, and we'll search our library for you. A good rule of thumb is that we have a lot of general themes, but not many specific concepts. For example, we have children laughing, but we don't have a redheaded boy whispering a secret into a blonde-haired girl's ear.
Can I see the fonts you have available?
We have hundreds of fonts - too many to list. You are welcome to let us know what kind of font you're looking for (simple, funky, thick, elegant, handwritten, etc.) or supply a sample of a font that you like. We may not have the exact font, but we'll have something close.
I've got a digital camera. How should I supply my digital photos?
You should take your photos on your camera's highest quality setting. Consult your camera's manual for instructions on how to set the resolution, quality and compression on your specific camera. You shouldn't assume that the default factory settings are correct for professional print needs. You can then take the picture off your camera and upload it to us when placing your order. Images taken on your cell phone may not be high resolution and often are compressed which reduces the image quality.
What kinds of paper can I choose from?
All jewel cases use a high-quality, coated paper, similar to what you'd find in a major-label release, that has a smooth, slightly glossy feel. The standard for board products (such as jackets, eco-wallets and digipaks) is a high-gloss, durable finish called a UV coating. Or if you prefer a non-glossy look, you can choose the matte varnish.
Who owns the copyright to my finished design?
Upon completion and final payment of your project, you own all rights to any work created by The Design Studio™.
Someone from Disc Makers has contacted me about possibly using my project for your promotional materials. What does this mean?
We are constantly looking for great designs created by The Design Studio™ to feature on our website, in our catalog, or in an advertisement. We are also continually looking for inspiring designs to send to design competitions. In order to use your design, we need your permission. If you are contacted, we would greatly appreciate it if you allow us to use your design. It's a win-win situation—we win a contest and you gain exposure by getting your design featured in an international publication; or we feature your design in an ad, our website or catalog and thousands of people will see your project and get to know your name. It's like free advertising. By signing the paperwork that we fax or mail to you, you are NOT signing over the rights of your project to us, you are merely giving us permission to use it as a visual for the aforementioned materials. It will also allow the designer to showcase your design in their portfolio as an example of the outstanding work they create.