Our Design Support team will check out any materials you've sent. If we are missing anything or if we find any issues with your digital files, your Project Manager will contact you immediately.

Scanning / Image Prep
We use top-of-the-line scanners to scan your original photographs. If you supply digital files instead, our designers will open all of the files and prepare them for our printing on our presses.
We'll take care of things such as re-sizing, cropping, and converting from RGB color mode to CMYK. If you need additional services such as retouching, multiple silhouettes, or a custom illustration, see the Additional Services section.

Text
Send us your text electronically and we'll format it. Provide everything that you'd like to include in your design, such as credits, acknowledgements and contact information. Be sure to proofread all information carefully.

The designer will thoroughly review all of your materials and get started on the design. They may use images from our stock library, or textures and effects to enhance your package design. Our designers will create one complete package solution to best suit your needs. The Project Manager and Design Team will work closely together to ensure the professional quality of your package.

Sending Proofs
Most proofs will be emailed to you with a link to view a high resolution PDF file. While the final print may vary from what you see on your own monitor, rest assured that your completed package will meet our high standards for quality. You can also login to My Account at any time to view and approve your proofs.

Changes and Approval
If you have design tweaks, text changes, or are looking for something different, no worries! Our designers will get right on it. Both corrections and approvals should be submitted using My Account.

All of our design work comes with a no-fine-print guarantee: You will be completely satisfied or you pay nothing. Most new proofs will be sent to you within 24 hours via email. If any of the changes require color corrections or additional services, we may opt to send you a hardcopy proof instead. It's worth noting that 75% of our clients approve their designs within two rounds of proofs.

Approval
Take time to look over your proofs carefully. If you are completely satisfied, just shoot an email to your Project Manager to let him/her know and we'll get started on printing your job!

You Get Your Finished Package
You get your finished CD, DVD or CD-Rom package and everyone is impressed with how awesome it looks! Now you'll have a better chance of getting noticed by your target market, whether they're new fans, DJ's and station directors, record labels, prospective clients, film festivals or more!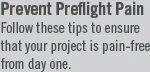 • Download and use the Design Info Guide as a checklist to make sure you send what we need to get started on your design.

• Be sure all your materials are sent together to avoid delays.

• Send .DOC and .RTF text files, or emailed text. We cannot accept text in .WPS format.

• Make sure names are spelled correctly and consistently.

• Send only high resolution TIFF, JPEG, .PSD, .EPS, or .AI images. We cannot accept images in Word, Powerpoint, MS Paint, Corel Draw, or other proprietary formats.

• Supply only the photos you may want us to use, and mark them for specific placement if necessary.

• Low resolution web images are bad. We're not kidding!