Disc Makers and Usher Partner to Help Needy Kids
Leading media manufacturer donates CDs and printing services to Usher's New Look Camp in Atlanta
July 29, 2005, (Pennsauken, NJ) — Disc Makers, the nation's leading media manufacturer, recently donated 500 CDs and printing services to R&B star Usher's New Look Camp in Atlanta where inner-city youths had the opportunity to record and take home their very own song co-produced by Usher himself.
The first annual New Look Camp took place from July 11-23 on the campus of Clark Atlanta University. The goal of the camp was to help transform the lives of needy and troubled youths between the ages of 9-17 by giving them insight into the music and sports industry and showing them career options in those industries. Celebrities, VIPs, and professionals from all areas of the sports and entertainment industries participated in the camp, which was all about showing kids from around the country how to take control of their own lives and make the right choices...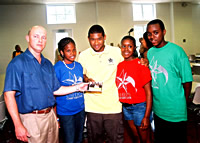 "We were thrilled to have the opportunity to help out these kids," explains Tony van Veen, Disc Makers' Executive Vice President of Sales and Marketing. "The mission of Usher's New Look Camp and Disc Makers are very similar: both are focused on empowering people to pursue and achieve their artistic goals. I hope that once these kids hear themselves on a professionally produced CD, they'll be inspired to continue pursuing their musical dreams. We look forward to a continued relationship with Usher's New Look Camp as it makes it way across the U.S."
To learn more about Usher's New Look Camp, go to www.ushersnewlook.org..
About Disc Makers
In business since 1946, Disc Makers is the nation's leading independent CD & DVD manufacturer, offering a wide variety of products and services, including state-of-the-art automated printers and duplication systems as well as complete CD & DVD duplication, CD & DVD replication, custom disc packaging, and vinyl record pressing for independent musicians, filmmakers, and businesses for the last 70 years. Disc Makers also offers a variety of additional services including download cards, posters, custom USB Flash drives, music distribution, in-house audio mastering and post production, DVD and CD-ROM multimedia authoring, award-winning graphic design, and their Blog, which offers free tools and professional advice from industry experts. Disc Makers' main office and plant is located near Philadelphia in Pennsauken, NJ, and the company has regional offices in Los Angeles, New York City, Chicago, Seattle, and Nashville.
Contact:
Steven Spatz
Chief Marketing Officer
[email protected]
1-800-468-9353