Creating your artwork is easy using our online design tool that you can access after saving your quote.

To ensure you get the correct templates for your project, create a quote and download the templates that are then presented to you in the project center. We also have templates in the following software as shown below. Click on the icon for the software you are using for specifications and export instructions.
We strongly encourage all of our customers to upload hi-res PDFs (Learn how to create & export a PDF). If you have any concerns about our templates, please contact your product specialist.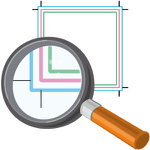 Not sure how to use our Design Templates?
Learn how to work with our design templates.
DVDs
| Template name and description | Image | Download |
| --- | --- | --- |
| Disc Label – Print to Center (UD100) | Preview image | |