Direct Mailer Advertising for CDs and DVDs
Automated direct mailers save you up to 20% on postage
Get pricing
Our Direct Mail packaging and services save you time and money
Automated direct mailers save you up to 20% on postage
Get pricing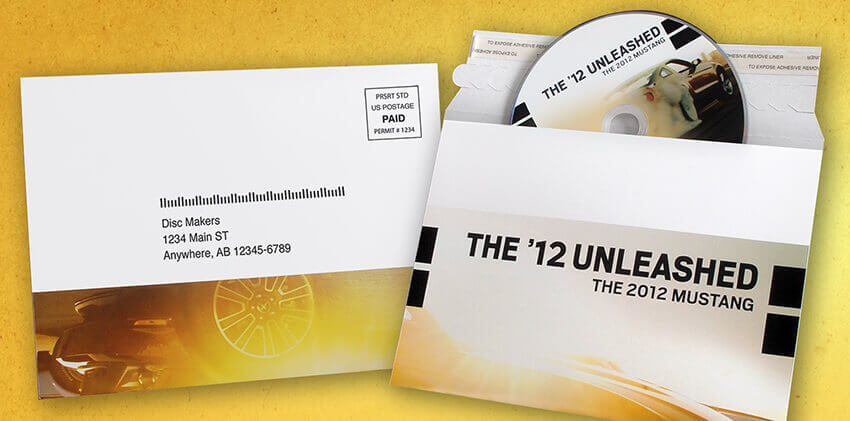 Choose from the widest range of USPS appproved mailers anywhere

2-panel Automated Mailers
Get pricing
Also available in quantities as low as 100 in as few as 4 days.

2-panel Automated Mailers w/Tear-strip
Get pricing
Also available in quantities as low as 100 in as few as 4 days.

DVD Eco-Wallet
Get pricing
Also available in quantities as low as 100 in as few as 4 days.
Why Disc Makers is the only choice for direct mail packaging
Our automated self-mailers have been USPS approved for optical media and qualify for the lowest mailing service rates, saving up to 20% on postage. Using non approved mailers will cost you more in postage and possible mailing damages.
Full-color eco-friendly board packaging is made from sturdy 15-point, grade-A, recycled board stock, and includes assembly.
Only Disc Makers offers you a choice of super-shiny gloss or velvety matte UV coating for the ultimate finish and superior durability.
Our Low Price Promise means you'll never pay too much for premium quality disc replication or duplication.
All our packages are backed by our satisfaction guarantee.
All our disc packages are proudly made in the USA.
Ensure your direct mail marketing campaign really packs a wallop
Easily add any of these services to your order during checkout or learn more below.
About our direct mail packages
Disc Makers offers the best automated direct mail packaging in the industry for CDs and DVDs. Our automated self-mailers are compliant with the latest USPS specifications and are classified by the USPS as letters, which qualify for the lowest direct mail cost rate for the United States Postal Service. Using our automated self-mailers can save you as much as 20% in postage. Other self-mailers are not automated and therefore carry a higher postage rate.
Advertising mailers reach consumers through physical catalogs, postcards, magazines, and more. Direct mail advertisement helps bring awareness to your business or cause. It is very effective in promoting interest whether it be for a small business, event, or promotional products. Direct mail marketing can increase your website traffic by bringing more brand awareness.
All Disc Makers board packaging is crafted to perfection from only the finest materials, including full-color printing, using only non-toxic, vegetable-based, biodegradable inks for rich, vibrant look that is unsurpassed in the industry. Our sturdy 15-point, grade-A, recycled board stock contains at least 10% post-consumer recycled content, and comes from mills that procure raw materials from lands that are forested in a sustainable manner, without clear cutting. Not only are they sturdy but our packages look like a million bucks, thanks to our premium UV coating. You get to choose either a super-shiny gloss or velvety matte finish. This UV coating not only provides a superior finish but also makes our direct mail advertising packages last 10 years longer than the competition. Add to all of this our 100% Satisfaction Guarantee and our Low Price Promise and you truly have the best direct mail service packaging for your CD or DVD in the business.
DETAILS: Production times quoted are business days from the moment you approve your proofs and order online. If you choose to send in graphics and master files (rather than upload them), please allow up to 3 additional days for file prep and proofing. Prices do not include shipping. Our Guaranteed turn times do not include direct mail services. Need more than 10,000? Call 1-800-468-9353 for volume pricing. See our full terms and conditions. See our shipping rates.