Custom Cassette Tape USBs
Get 100 USB Cassettes for just $439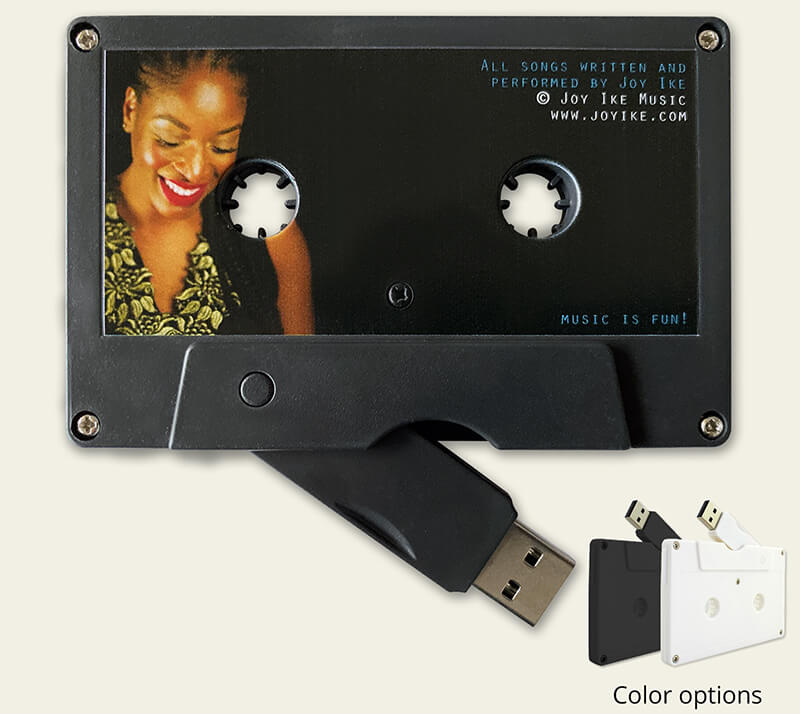 Custom Cassette Tape USBs
Get 100 USB Cassettes for just $439
Ordering custom cassette USBs is easy! Just configure your own custom quote and upload your art in our Project Center.
Get your instant price
or call us at 800-468-9353 to get our lowest possible pricing.
Prices are
per unit

1GB
2GB
4GB
8GB
16GB
10
$7.38
$7.52
$7.67
$7.75
$7.81
25
$5.00
$5.14
$5.29
$5.37
$5.43
50
$4.63
$4.77
$4.92
$5.00
$5.06
100
$4.39
$4.53
$4.68
$4.76
$4.82
250
$3.98
$4.12
$4.27
$4.35
$4.41
500
$3.72
$3.86
$4.01
$4.09
$4.15
Free data load on USB drives up to 8 GB.
Limited time offer!
Why your fans want Custom Cassette Tape USBs
Cassette Tape USBs put a modern twist on a classic format that provides a unique way to captivate your fans.
With Cassette Tape USBs you can:
Transfer the files to your phone or play them straight from an Android phone ad-free. No cellular data or Wifi required.
Load your custom USB drives with exclusive artwork or photo outtakes from your latest shoot.
Have plenty of room to include the video for your hit single or a "thank you" message to your fans for all of their support.
Include links to your social media and webpage. The possibilities of these custom USB cards are endless.
Fans can use Cassette Tape flash drives on any USB port, from computers to cars. They also give you a creative and professional look by showcasing your album art with full-color printing.
Cassette Flash Drive Specs
Includes free shipping, full-color printing, and a lifetime guarantee. Quote, create, and order your custom cassette USBs entirely online.
Dimensions & impressions area
Standard USB cassette size 4" x 2.5" with a label print area of 3.5" x 1.65"
Color options
Black and White
Memory options
2 GB, 4 GB, 8 GB, 16 GB
All drives are standard 2.0



Get your instant price


or call us at 800-468-9353 to get our lowest possible pricing.

FAQ
What materials do I need to provide?
Artwork to print on the cassette USB and files to load
What USB cassette storage sizes do you offer?
Standard 2gb – 16gb (larger options available for some types)
What is your minimum quantity order?
You can order as few as 10 custom cassette USBs!
Do you have design templates?
Are cassette cases included?
No. At this time we do not offer plastic cases for the cassette USBs