A few of our satisfied clients

Custom USB Flash Drive Styles
Our custom USB flash drives provide you with branded media that is great for delivering presentations and promotional giveaways. A custom flash drive or thumb drive is also great for distributing music, catalogs, video, and more.
Take a look at our most popular custom USB flash drive types below.
Free data load on USB drives up to 8 GB.
Limited time offer!

Swing USB Flash Drive

Top Hat USB Flash Drive

Business Card USB Flash Drive

Bamboo Switch USB Flash Drive

Custom Cassette USBs

NEW!

USB Music Cards

Key Shape USB Flash Drive

Custom-shaped USB Flash Drive

3D Flash Drive

USB data pre-loading

USB Storage and packaging
Why trust Disc Makers for your custom printed USBs?

Printed, loaded, and
packaged in the USA

Free shipping for
all USB orders*

Serving you for
75 years and counting
Custom-printed USB flash drives are one of the most versatile ways you can make a connection. And Disc Makers makes it easy to turn your USBs into captivating, custom-printed solutions. Over the years we've helped everyone from independent musicians to Fortune 500 companies find success with our affordable personalized thumb drives, swift turn times, and dependable customer service.
Every custom flash drive is assembled and tested by our in-house team of professionals and is guaranteed to be a reliable data storage device that will last for years to come.
*USB orders include free ground shipping to the contiguous 48 states. Faster services are available. Orders shipping to Alaska, Hawaii or internationally do not qualify for free ground shipping.



Upgrade your user experience with USB Authoring
The experts at the Authoring House will help you create a captivating presentation, complete with auto-run functionality, your logo, and other brand elements.
Learn more
CUSTOM USBs FOR MUSICIANS
Give your fans more than just music with personalized flash drives.
Learn more
CUSTOM USBs FOR MUSICIANS
Give your fans more than just music with personalized flash drives.
Learn more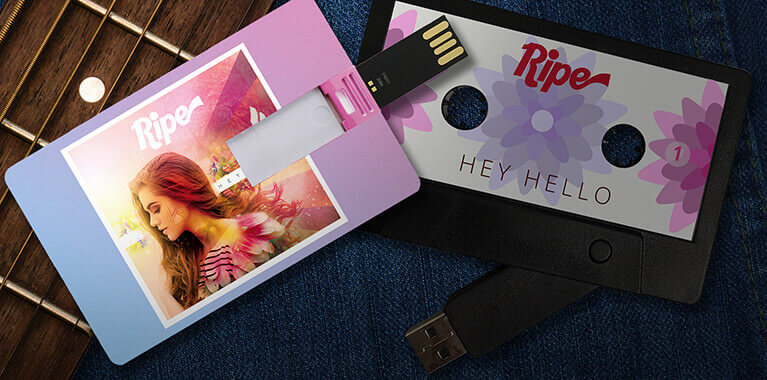 FAQs on USBs
How do you save files on a USB flash drive?
You can easily save your files by plugging the flash drive into the USB port on your computer, or send us your files and we'll do the work for you!
How much data can a USB flash drive hold?
A USB flash drive can hold anywhere from 1GB to 64GB, depending on how much information you need to store.
How much is a USB flash drive?
We offer a range of pricing for our custom USB flash drives. You can get your instant price here.
What can you do with a flash drive?
With a USB flash drive, you can have your music, presentations, documents, and more with you wherever you go. Flash drives hold a variety of data that help you keep your files organized, as well as create more space on your computer.
What can you put on a flash drive?
You'll have a variety of options when it comes to what you can put on a flash drive. Music, PDFs, PowerPoint presentations, and photos are just a start.
About our custom USB drives
Our custom bulk USB flash drives can either be delivered blank, leaving you to load your own data, or you can take advantage of our USB data load service or our USB authoring services and have your USB drives delivered completely customized and ready to be distributed. We also provide a variety of custom USB drive packaging options, to give your flash drives that added personal touch of being individually delivered in a box, bag, or a case. Custom USB flash drives are also available in a variety of styles. With a variety of options and affordable prices, Disc Makers is your resource for blank or custom-printed USB flash drives.