Bamboo Flash Drive
50 custom-printed wooden USB drives for just $273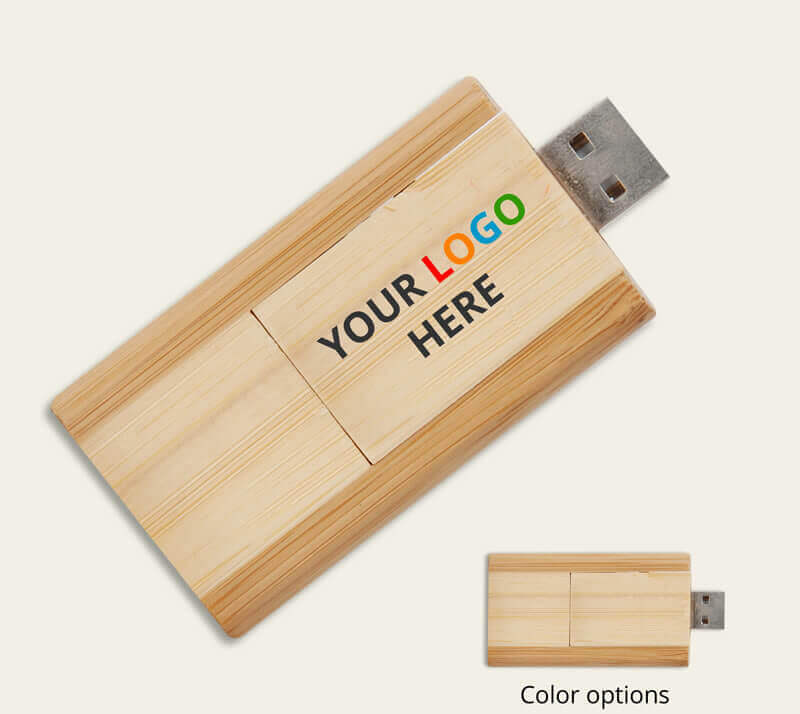 Bamboo Flash Drive
50 custom-printed USB drives for just $273
Our natural bamboo flash drives are a great way to make your brand stand out. Disc Makers can load your information directly on your wooden USBs right here at our facility in the USA. Ordering custom bamboo flash drives is easy! Just configure your own custom quote and upload your art in our Project Center. All USB orders are shipped free and come with a Limited Lifetime Warranty.
Get your instant price
Need help? Tell us about your project.
Or call 800-468-9353
Prices are
per unit

1GB
2GB
4GB
8GB
16GB
50
$5.46
$5.60
$5.75
$5.83
$5.89
100
$4.54
$4.68
$4.83
$4.91
$4.97
250
$4.05
$4.19
$4.34
$4.42
$4.48
500
$3.80
$3.94
$4.09
$4.17
$4.23
Includes full color print on one side and no data load. Turn time 10-15 days.
Free data load on USB drives up to 8 GB.
Limited time offer!
Custom Bamboo Flash Drive Specs
Includes free next-day shipping, full-color printing, and lifetime product guarantee. Quote and order entirely online!
Dimensions & impressions area
Color options
Natural
Memory options
1 GB, 2 GB, 4 GB, 8 GB, 16 GB
All drives are standard 2.0

How much data can I include on the bamboo flash drives?
Make sure you have enough room. Formatting the USB drive will use some of the memory. Once formatted, the available space is generally about 93% of the drive size. For instance, if you order 1 GB drive, you'll only have about 930 MB available. Please plan accordingly.
Included
Limited Lifetime Warranty and Free Shipping
Optional packaging
Due to the differences in brands of computer and configurations we cannot guarantee which way the printed design will be facing when the bamboo flash drive is plugged into a computer. Learn more.



Get your instant price


Need help? Tell us about your project.
Or call 800-468-9353