USB Music Cards
Custom print your album art on USB flash drives.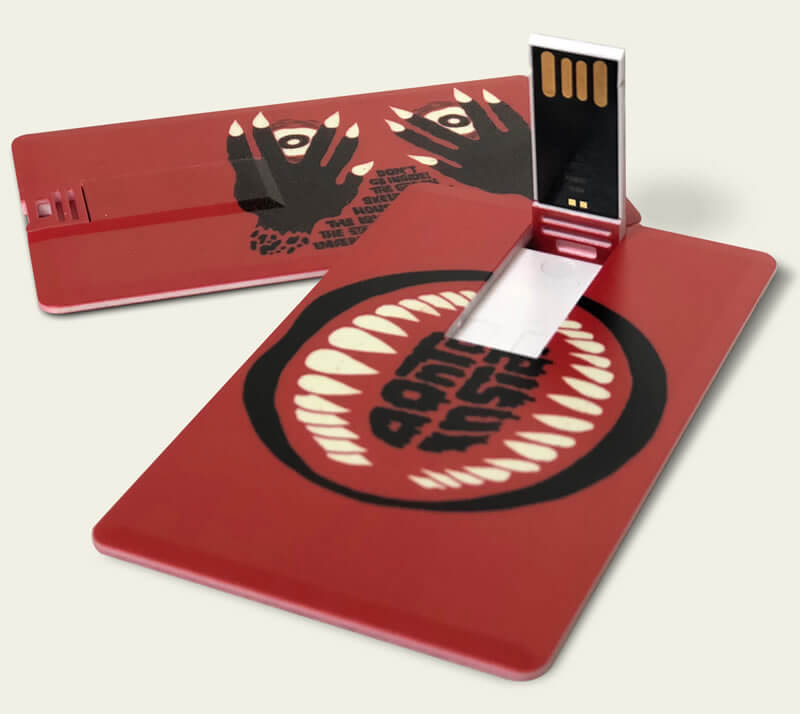 USB drive packaging:
Need packaging for your Swing USB flash drive?
Here are our most popular options:
USB Music Card Specs
Includes free shipping*, full-color printing, and a lifetime guarantee. Quote, create, and order entirely online.
Dimensions & impressions area
Weight
0.35 oz
Color options
White
Memory options
1 GB, 2 GB, 4 GB, 8 GB, 16 GB, 32 GB
All drives are standard 2.0

How much data can I include?
Make sure you have enough room. Formatting the USB drive will use some of the memory. Once formatted, the available space is generally about 93% of the drive size. For instance, if you order 1 GB drive, you'll only have about 930 MB available. Please plan accordingly.
Printing
Full color artwork printed on both front & back, in full vibrant colors
Included
Limited Lifetime Warranty and Free Shipping*
Optional packaging
Due to the differences in brands of computer and configurations we cannot guarantee which way the printed design will be facing when the USB Flash Drive is plugged into a computer. Our music card flash drives come with the option for Data Loading. Learn more.

USB Drives that do not have a standard USB case around the circuit board, like the Key Shape, Business Card and Music Card, are susceptible to movement – and therefore can appear to fail. There is also potential that the Key and Business Card shape may not consistently work on a Mac. The thinner profile of the Mac, combined with the exposed circuit board of the drive, can prevent the drive and the computer from making good contact resulting in the computer's inability to read the drive. The data on the drive is fine, but the computer may fail to read if the connection becomes loose.



Get your instant price


Need help? Tell us about your project. Or call 800-468-9353.

*USB orders include free economy shipping to the contiguous 48 states. Faster services are available. Orders shipping to Alaska, Hawaii or internationally do not qualify for free economy shipping.
FAQ
What materials do I need to provide?
Artwork to print on the USB and files to load
What storage sizes do you offer?
Standard 2gb – 32gb (larger options available for some types)
What is your minimum quantity order?
Do you have design templates?