Interested in creating your own cd jewel case or inserts and unsure where to start? At Disc Makers, we provide CD jewel case templates along with design templates to help you find the graphic design that works best for your CD and style. Our printing is the highest quality with vegetable oil-based ink, which is the highest in the industry. Choosing your own cd cover template and images provides the personalization you need to help you connect with your audience. Our templates work with adobe illustrator, InDesign or Photoshop to create high-quality work. You can explore all of our jewel case templates, booklet templates, an on disc printing templates below.
Creating your artwork is easy using our online design tool that you can access after saving your quote.
To ensure you get the correct templates for your project, create a quote and download the templates that are then presented to you in the project center. We also have templates in the following software as shown below. Click on the icon for the software you are using for specifications and export instructions.
We strongly encourage all of our customers to upload hi-res PDFs (Learn how to create & export a PDF). If you have any concerns about our templates, please contact your product specialist.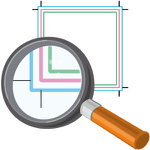 Not sure how to use our Design Templates?
Learn how to work with our design templates.
Jewel Cases
Booklets
| Template name and description | Image | Download |
| --- | --- | --- |
| Disc Label – Print to Center (UD100) | Preview image | |