Multi Disc Packages
Whether you're doing a CD and DVD combo package or a 20-disc boxed set, Disc Makers has attractive and affordable options for you. Call 1-800-468-9353 for pricing!

Jewel Cases
(holds up to 6 discs)
The classic disc package is expandable and elegant. Jewel Cases can hold up to 6 multiple discs with plenty of room for extra liner notes.
See all Jewel Case options

Multi-disc DVD Cases
(holds up to 12 discs)
This classic DVD case can be increased to hold multiple discs, up to 12, and still look great. The multi disc DVD is a great option for educational DVD sets, TV series or movies thanks to a large storage capacity.
See all DVD options

Multi-disc Eco-Wallet
(holds up to 4 discs)
The multi-disc version of our eco-friendly board packaging, a new industry standard.
See all Eco-Wallet options

Multi-disc Digipaks
(holds up to 4 discs)
Printed on recycled board stock, Digipaks are lightweight and can hold 2-8 discs, with multi panel artwork.
See all Digipak® options

Multi-disc DVDigipaks
(holds up to 8 discs)
Same height as a DVD case with the professional polish of a Digipak®, DVDigipaks can hold up to 8 discs with 8 panels. This has plenty of storage for your data and other items.
See all DVDigipak® options

Unikeep boxes
(holds up to 20 discs)
This unique CD/DVD package can hold up to 20 multiple discs with graphic inserts, perfect for storing a a wide range of items like volumes of music or movies. Features a fully enclosed case with safety sleeve protection pages.
Call 1-800-468-9353 for a custom quote.

Multi-disc Blu-ray case
(holds up to 4 discs)
These blue tinted, multi-disc blu-ray cases are the standard in the film and recording industries and can become the standard packaging for all your blu-ray projects and other high-capacity data needs.
Call 1-800-468-9353 for a custom quote.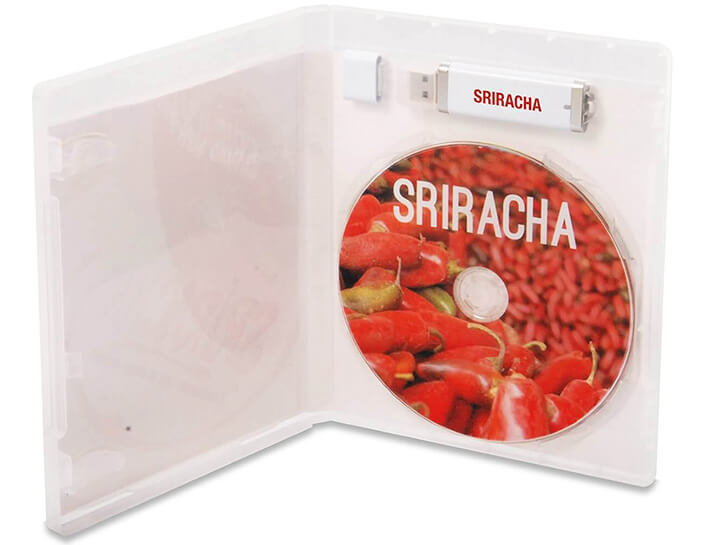 Gigabox USB/DVD
(holds up to 1 disc and 1 USB drive)
This plastic case not only holds a disc and usb flash drive but also leaves room for a printed insert.
Call 1-800-468-9353 for a custom quote.
Don't see what you need?
Call 1-800-468-9353 for a custom quote!