Take your disc packaging to the next level with these upgrades.
Each of these options can be added to your order at the time of creating a disc package quote.
Take your disc packaging to the next level with these upgrades.
Each of these options can be added to your order at the time of creating a disc package quote.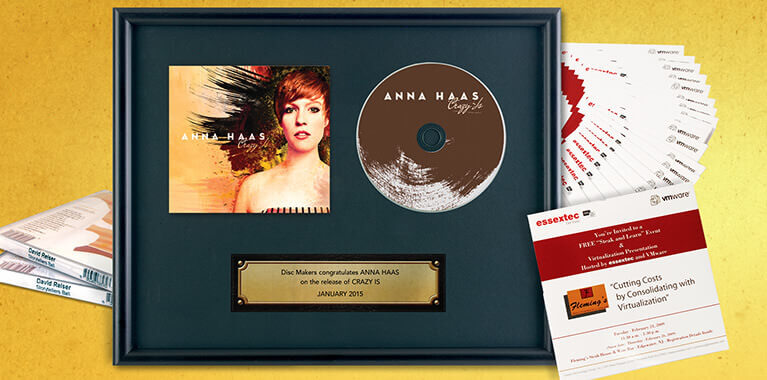 UPC Bar Code and SoundScan Registration
A bar code is a must for retail sales. Stores won't sell products without them. If you were to buy one from the UCC, not only would it cost you $750, but the process would also take several weeks. Not when you order a CD replication package from Disc Makers. We'll give you a genuine unique UPC bar code that can be tracked by any distributor or retailer inventory system for only $20. And once you register your bar code with SoundScan (which is free and easy to do), your sales records will be tracked by the industry leader.

Spine Labels
Spine labels make your CD and DVD Case products look more professional (and some stores require them). Add a $50 setup charge and 6¢ per disc (includes label printing and application). For spine labels on board products, please call your product specialist.

Full-color Printing
Our standard jewel box packages include 4/1 (pronounced "four over one") insert printing, which in print-shop-speak means full-color printing on the outside of the folder and black and white on the inside. If you want color on both sides of the jewel box folder, go 4/4. You'll be as colorful as you want to be – at a price within your budget.
You deserve the finest quality posters to promote your new release, and our posters are clearly the best in the market. Printed on high-gloss coated 100 lb. text stock with aqueous coating for extra durability, our 11" x 17" posters start at just $59. Need something bigger? 18" x 24" posters are just $198.
Use these super-affordable stickers as a free reward for the fans you've already got. Or spread your name with your own guerilla marketing campaign – stick 'em up anywhere and everywhere.
Everything you need to sell your music, starting at just $9.99. Not only does this bundle include online distribution through CD Baby, download sales on Amazon and iTunes, registering your music with CDDB, and registering your bar code with Soundscan, but we do all the work for you. After all, we want you to be well-rested for your up-coming tour.

Commemorative Plaque
Display your release like a gold record. A custom-framed commemorative plaque is the ideal way to show off your accomplishment. These popular plaques are available to anyone who orders CDs or DVDs in any packaging format. At just $59 each, you can afford one for everyone in the band. Just ask your Product Specialist for details when placing your order, or add it to your quote under Add Ons.
During mastering, a professional engineer optimizes your CD by using EQ, compression, and other dynamics processing, so your album can compete with any major label release. The SoundLAB at Disc Makers provides world-class mastering at prices independent musicians can afford. Perfectionists such as Eminem, the Roots, Kool & the Gang, Sir Mix-a-lot, and Jason Newsted (Metallica) have trusted their sound to the SoundLAB.
Ready to take your disc package to the next level?
Get started